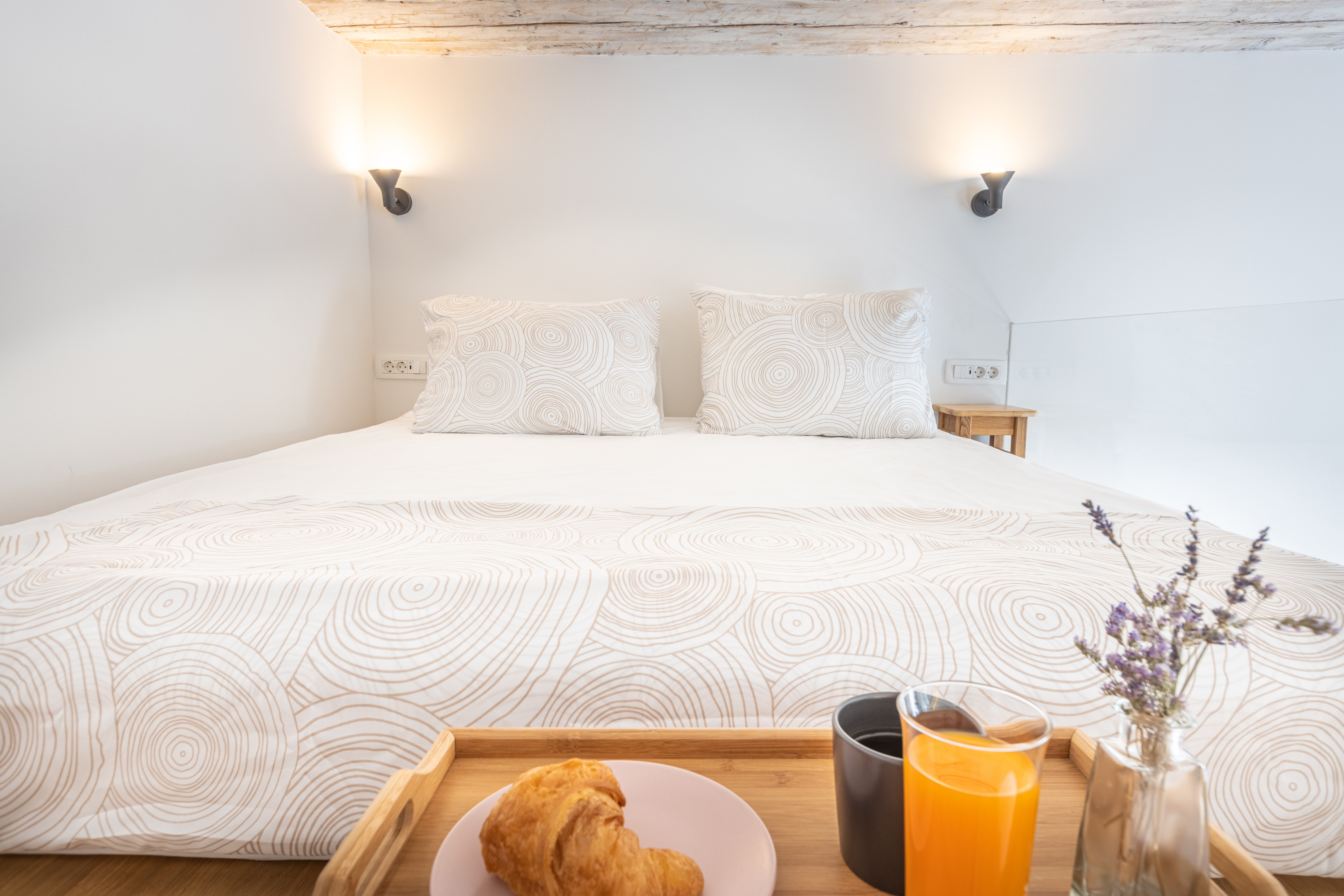 This cosy loft is made to ensure a comfortable stay, featuring a kitchenette, a spacious bed, high-speed internet, a living room with a sofa and a TV with Netflix. The window nook, overlooking Ljubljana's historic centre, was specially designed for people watching and relaxing within the comfort of your apartment. Located on a pedestrian-only street known for cafes, restaurants and artisan shops, within a 2min walk to the vibrant promenade by the Ljubljanica river with the Triple Bridge.

This newly renovated apartment, with a beautiful original wooden high ceiling, is located on the second floor of a historical old bourgeois house in a pedestrian-only area. With just a few steps away from the Town Hall, Triple Bridge and the Prešernov trg Square, the heart of the historic Ljubljana, it is the perfect base to explore the city. The street itself hosts a number of quality restaurants, cafes and artisan shops. The apartment features a private bathroom, kitchenette and a living room with a window seat and a wide sofa that transforms into a queen-size bed.

It is equipped with your comfort in mind and provides everything for a worry-free stay: quality linens, towels, hypoallergenic duvets and pillows from natural fibers, shampoo, blow dryer, iron, access to a communal washing machine and dryer (at a symbolic fee), high-speed internet, TV with Netflix and a small but fully equipped kitchenette that was functionally designed and has everything you need to make a delicious meal. Air conditioning will keep you cool in the summer and heating units will keep you warm in the winter. The bedroom, with a king-size bed, is set on the mezzanine which is accessed via a beautiful in-room custom made oak staircase.

About the neighbourhood
The Mestni trg square has been the center of the capital since the 12th century. It is now part of the pedestrian-only historic center, where only certain cars are allowed to enter during a small window of time early in the day. This ensures the neighborhood evolves with people in mind and therefore hosts lovely artisan shops, quality restaurants, open-air cafes and (wine) bars. It's central location is great for exploring Ljubljana as all the major attractions are within 5 - 20 min walk, including Ljubljana castle and the beautiful city park Tivoli. The cobblestone streets and colourful historical houses meet the youthful energy of the city for the perfect getaway experience.

Within 3 min walk you will find a pharmacy (open every day except Sundays), a grocery shop ("Mercator", open every day), a "DM" - store that sells cosmetics, healthcare items, household products, and health food (open every day) and multiple ATMs. Additionally 400m away, across Prešernov Square, on Čopova street there are multiple fast-food restaurants, clothing and shoe stores, small shopping mall and a post office.

Čas prijave: Po 15:00 uri na dan prihoda.


Čas odjave: Pred 11:00 na dan odhoda.


Kajenje: Kajenje v apartmaju ni dovoljeno.


Hišni ljubljenčki: Hišni ljubljenčki niso dovoljeni.


Zakonska postelja
Raztegljiv kavč
Pogled na mesto
Pogled na ulico
Kuhinjski kotiček
Soba za shranjevanje prtljage
Kopalnica s tušem
Delovni kotiček
Opremljena kuhinja
Udoben kavč
Internet
Brezžični internet
TV z daljincem
Grelnik vode za čaj
Aparat za kavo
Likalnik
Mikrovalovna pečica
Lastna klimatska naprava
Okna z omogočenim odpiranjem
Radiator za sušenje brisač
Miza
Fen za lase
Visoki stropi
Kajenje ni dovoljeno
Centralna kurjava
Lastna kopalnica
Protivlomna vrata
TV
Hladilnik
Kuhalna plošča
Kuhalnik za vodo
Prevleke za posteljo
Pralni stroj (skupna pralnica)